How to Swing Trade…… UPDATE
It has been FOUR days (last sunday) when we gave our first sample picks of stocks that we wanted traders to take a look at. Please reference this original blog post:
https://www.futurestradingcoach.com/how-to-swing-trade-the-stock-market-with-remarkable-accuracy-can-i-use-options-read/
This was sent out to our mailing list and social media BEFORE the market opened on Monday. A lot of the stocks have triggered and made moves. We want to highlight just a few notables below.
This certainly could have been done in stocks but for example purposes I will illustrate using options:
Lets' start with the first one JD:
You will see from the image below we executed a trade by buying first thing Monday morning some deep in the money put options 80 delta weeklies by buying the 40.5 puts four days to expiration. The puts were purchased for around 1.82 x 5 for a total of about $922.50 margin/risk on the trade. The price of the stock was $38.81 (we actually got in late and could have done a bit better) Now, lets keep in mind that this trade could have been structured many ways. We are outlining one example below
See link for larger image if needed: JD Trade Entry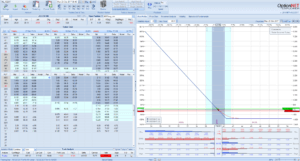 This above chart was Monday morning. Fast forward to today and with $922.50 margin (the cost of the trade) those puts, with the move down in JD, are worth $3.75 each and the price of JD stock is $36.81. The price of the stock went down 2 dollars in less than 3 days and the price of the put options rose from $1.82 to $3.75
See link for larger image if needed: JD Current Chart EOD Thursday 10/26/2017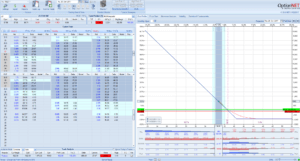 You can see above this trade is up $952.50 on a risk of 922.50 (and you would not have had to risk the entire thing as you could have simply exited if you wanted once a threshold stop loss was reached) or a gain of 103.25% and that is after commissions (entry and exit commissions).
Another one is CELG:
For CELG, to keep it simple, we adopted the same strategy – We bought 1 deep in the money put on weekly 9 days to expiration. We paid $5.67 for the PUT deep in the money. This was yesterday before the close when it triggered.
See link for larger image if needed: CELG Entry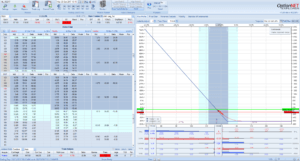 Fast forward ONE day later you will see we are up 282.15% and the put is trading at $24.72 and on $647.00 in risk it is up $1,825.50 in profit. It was actually up higher in profits than that as the current price is $99.99 but was as low as  $94.55. As we know it is impossible to buy the exact low and sell the exact high but the trade was up more than the prices shown here earlier in the day! That's almost a TRIPLE in one day on what you could have gotten near the close and even more intraday! The stock price itself dropped almost $23.00, yes that's TWENTY-THREE bucks!
See link for larger image if needed: CELG ONE Day Later!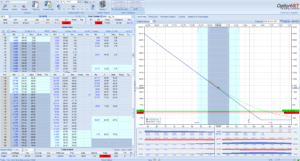 Please be sure to signup for our webinar where Sam Goldberg will follow up on the trades and discuss these new opportunities in the marketplace all based on the methodology we primarily day trade in futures! The webinar is Monday October 30, 2017 at 1PM EST
If you already have an account in our system please Login HERE to register for the webinar
If you are new and have never joined our mailing list or taken a FREE trial to our trading room please register here on our webinar page.